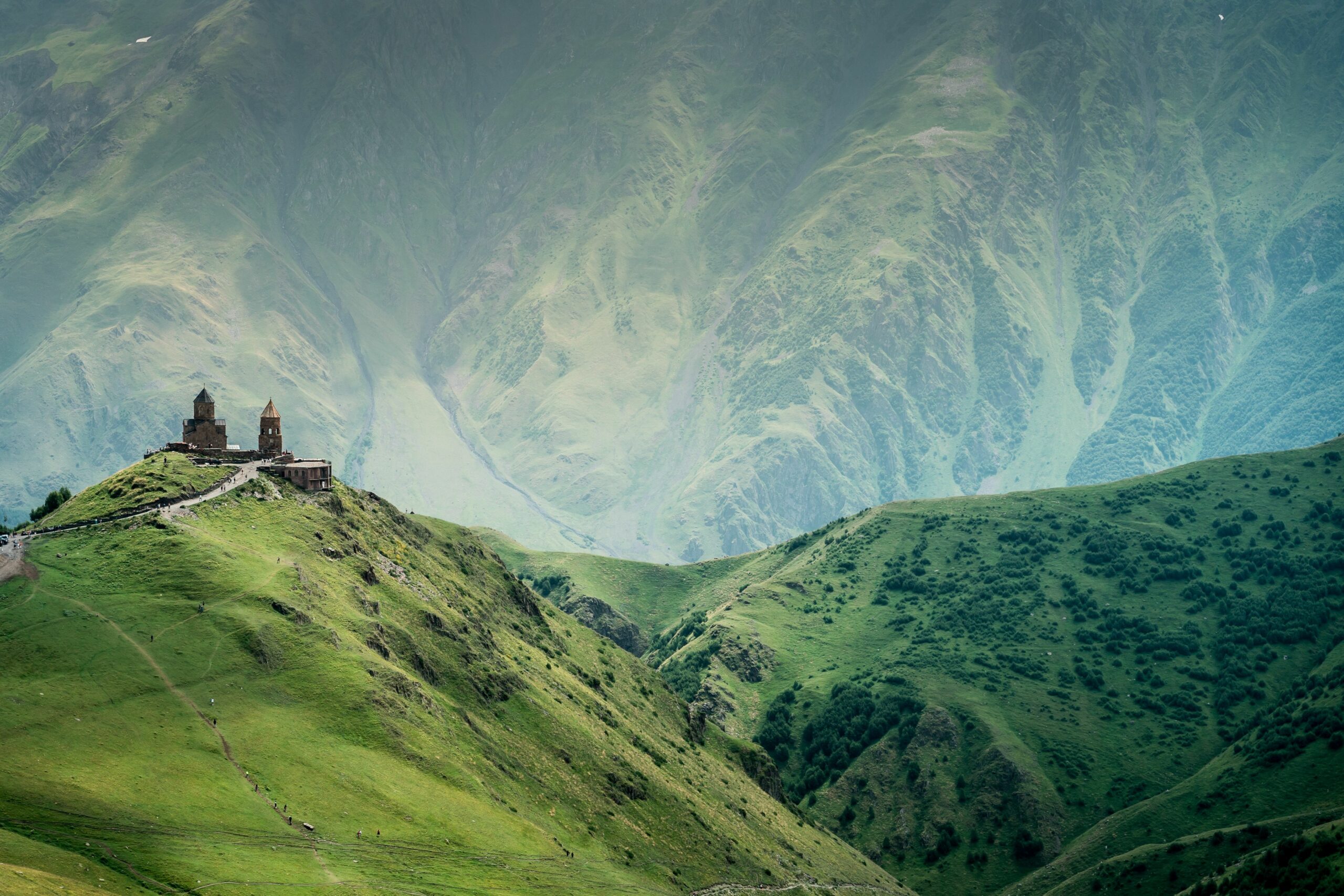 The Russian invasion of Ukraine also put the Caucasia region into the spotlight of the European and Austrian public.
This Spotlight looks at the region's trade ties with the EU and Austria, their significance for the region and the varying depth of the region's relations with the EU. Georgia is the country with the currently deepest economic integration with the EU – along with Moldova and Ukraine – through a Deep and Comprehensive Free Trade Agreement (DCFTAs) followed by Armenia's Comprehensive and Enhanced Partnership Agreement (CEPA), while Azerbaijan's trade relations with the EU are still governed by a Partnership and Cooperation Agreement (PCA).
Selected key facts on Caucasia
The Caucasus region comprises of Armenia, Azerbaijan, and Georgia. Both in terms of population size and territory the region is comparable to the six West Balkan (WB6) states (Albania, Bosnia and Hercegovina, Kosovo, Montenegro, North Macedonia, and Serbia). The three Caucasus states have a population of 16.6 million and cover 186 thousand km², while the WB6 have 17.7 million inhabitants at an area of 204.5 thousand km² (WDI, Eurostat). To contextualise, Azerbaijan is slightly bigger than Serbia, Armenia is comparable in size to Albania and Georgia is slightly bigger than Bosnia and Hercegovina and Montenegro. In terms of GDP per capita (in PPPs), Georgia's GDP is comparable to the level of Bosnia and Hercegovina, Armenia's to Albania's, Azerbaijan has the lowest GDP per capita in Caucasia (Figure A).
The domestic political situation of the three countries is heterogeneous. Among the three countries Azerbaijan ranks by far worst in corruption and press freedom. To illustrate, Azerbaijan ranks 157th corruption perception and 151st in press freedom. Armenia was ranked 63rd in the corruption perception index, while Georgia was ranked 41st. In the press freedom index Armenia ranked 49th lies ahead of Georgia, which was ranked 77th. By way of comparison, Montenegro ranks 65th in corruption perception while in press freedom Romania ranks 53rd and Hungary 72nd.
Trade ties
The overall share of goods exports of regional GDP was 38 % in 2022 while imports stood at 29 %. The regions exports are dominated by Azerbaijan which accounted for 80 % of the region's total share, followed by Georgia (11 %) and Armenia (9 %) in 2022. This can be attributed to Azerbaijan's well endowment with fossil fuels and the resulting exports thereof. The share of imports is more balanced, 41 % of which were imported by Azerbaijan, 35 % by Armenia and 24 % by Georgia.
The most important trading partners for the region are the EU, Russia, and Turkey (Figure B). These top three partners accounted for 74 % of the region's exports and 54 % of its imports as share of total in 2022. As export partner the EU clearly takes the lead, 57 % of all exports went to the EU in 2022. The significant increase in exports to the EU in 2021 and 2022 can be attributed to surging energy prices and the high share of fossil fuels in exports to the EU. In 2022, Russia overtook the EU as leading import partner though by a narrow margin of one percentage point. Overall, the war in Ukraine has not materialised in large shifts in third country trade patterns until now. Compared to the significance of the region's trade ties with the EU, its significance for the EU is of a much smaller nature. EU – Caucasia trade accounted for 1.1 % of the EU's imports as share of extra-EU imports and 0.28 % of the EU's exports in 2022. To compare, the WB6 accounted for 1.2 % of the EU's imports and for 1.9 % of its exports.
Exports to the EU are clearly dominated by oil and gas, which accounted for 94 % of Caucasia's exports to the EU in 2022, dwarfing the remaining sectors (Figure C). European exports to the region are more diversified, both in terms of sectors and destination countries, manufacturing being the most important sector. 41 % of EU exports alone are machinery and transport equipment.
Trade ties with Austria
For Austria Caucasia's share in Austrian imports and exports (excluding intra-EU trade) is even smaller compared to the EU. Imports from Caucasia accounted for 0.08 % as share of non-EU imports and for only 0.003 % of its non-EU exports. Despite these rather small shares, this region has been a focal region for Austrian foreign policy. Austria has dedicated ambassadors for all three countries though the ambassador to Armenia is based in Vienna and the region is also a focal region for Austrian development policy. Two out of eight focal regions are in Caucasia (namely in Armenia and Georgia) where consequently the Austrian Development Agency (ADA) also maintains offices.
The main Austrian imports from Caucasia are mineral fuels, which are unsurprisingly dominated by Azerbaijan, while the key Austrian exports are machinery and transport equipment, manufactured goods and foods. Austria maintains a positive trade balance with the region. In 2022, it imported goods worth 62.6 million Euro compared to exports to the region amounting to 154.3 million Euro.
Energy Supplies
Caucasia is both an important transit route and source of oil and gas supplies for the EU. Azerbaijan's gas is exported through the South Caucasus Pipeline via Georgia into Turkey from where it is also exported via the Trans Anatolian Pipeline (TANAP) to European markets. In light of Russia's efforts to weaponize gas supplies, diversifying gas supplies has been a key goal of the European Commission.
Azerbaijan was the EU's ninth biggest oil supplier in Q1 2023 (in Q1 2022 it was tenth), but fifth biggest gas supplier in Q1 2023 (Figure E). What figure E also illustrates, is the diversification away from Russian gas from almost 39 % of all extra-EU natural gas imports in Q1 2022 down to 17.4 % in Q1 2023. As part of this strategy the EU and Azerbaijan signed a new Memorandum of Understanding on a Strategic Partnership in the Field of Energy on July 18th, 2022.[1] Though a reasonable step to diversify gas supplies away from Russia, the increased cooperation with Azerbaijan (much like that with Qatar) has also earned the European Commission criticism for putting geopolitics over upholding European values, considering Azerbaijan's track record with regards to human rights and fundamental freedoms.[2]
A conflict ridden region
Overall, the significance of the region for the EU and Austria is less of an economic than of a political nature. All three countries are involved in unresolved conflicts with one of its neighbours, namely the Nagorno Karabakh conflict between Armenia and Azerbaijan and the conflict of Georgia with Russia over South Ossetia and Abkhazia, regions effectively controlled by Russia.
The Nagorno Karabakh conflict was the most violent conflict which erupted in the wake of the immediate fall of the Soviet empire, resulting in two big wars in 1992 -1994 and 2020. In the first war Armenian forces had conquered the predominantly ethnically Armenia region of Nagorno Karabakh and surrounding territories which are internationally recognised as Azerbaijani, while in the second war Azerbaijan again reconquered the surrounding territories and approximately one third of Nagorno Karabakh.
One indirect consequence of the Ukraine war is the EU's increased role as actress in conflict moderation, which gained considerable momentum in 2022. In Georgia the EU has been present with its EU Monitoring Mission (EUMM) (and theoretically also in Abkhazia and South Ossetia, theoretically as the EUMM has not gotten access to Georgian territory not under the control of Georgia's government), while in the Nagorno Karabakh conflict it had been forced to remain on the sidelines only until recently. Azerbaijan's military victory in 2020 and further flare-ups have put Armenia both under increasing domestic and external pressure. Russian inaptness or unwillingness to support Armenia has brought the EU to the table. In autumn 2022 a civilian EU monitoring mission to Armenia (EUMA) was set up and also several rounds of peace negotiations chaired by the EU have taken place since autumn 2022.
The varying depth of political relations with the EU reflects the differing ambitions of these three states towards European integration, with Georgia and its accession bid clearly taking the lead. Georgia has signed a DCFTAs (Deep and Comprehensive Free Trade Agreement) as part of its Association Agreement which have been in force since 2016. Armenia has upgraded its initial PCA (Partnership and Cooperation Agreement) to a CEPA (Comprehensive and Enhanced Partnership Agreement), which has been in force since 2021 while Azerbaijan's trade relations with the EU are still governed by a PCA dating back to 1999. A similar pattern can also be observed with membership in the Energy Community an international organisation seated in Vienna "which brings together the European Union and its neighbours to create an integrated pan-European energy market."[3] While Georgia is a contracting party like the WB6 states, Armenia has observer status and Azerbaijan is not associated at all. The war in Ukraine has changed the political dynamics. Ukraine and Moldova have been granted accession candidate status, while Georgia also applied though it is pending the green light from the European Commission given it makes progress in areas such as the judiciary system, fighting corruption and fighting organised crime. Above all the granting of candidate status is a significant policy shift, given that prior economic and political integration of the EU's neighbours outside the Western Balkans has been characterised by applying enlargement methodology without the actual prospect of EU accession.
Conclusion
The EU is the key trading partner for the Caucasia region which also the Russian war against Ukraine has not changed. While European imports are dominated by fossil fuels, European exports are in particular manufactured goods. This is a pattern which also applies to Austrian trade with Caucasia, with key differences being that Austria maintains a positive trade balance with the region and the share of fossil fuels in its imports is lower. The significance of the EU's role as key trading partner has not transformed into a deepening of political ties as the differing trade agreements (EU-Georgia DCFTA, EU-Armenia CEPA and EU-Azerbaijan PCA) and membership in the Energy Community shows, but the Russian war in Ukraine has. From a European perspective the region is particularly significant for (geo)political reasons, for its location in the EU's south-eastern neighbourhood and gateway to Central Asia, and in the short to mid-term as supplier and transit route for energy.
[1] https://ec.europa.eu/commission/presscorner/detail/en/IP_22_4550
[2] Caprile, A. & Przetacznik, J (2023) Armenia and Azerbaijan: Between war and peace. EPRS.
[3] Energy Community, Who we are, https://www.energy-community.org/aboutus/whoweare.html
Author:
Bernhard Moshammer is Economist at wiiw. His research focuses on European economic and political-economic issues. He has previously worked for the Austrian Federal Chancellery on EU affairs and on housing policies at the Austrian Chamber of Labour. He holds a degree in Economics from the Vienna University of Economics and Business and an M.A. in European Interdisciplinary Studies from the College of Europe, Natolin Campus in Warsaw, Poland.
The interactive graphics were created by Alireza Sabouniha. He is a research assistant at wiiw and a master's student in Economics at the WU (Vienna University of Economics and Business).